Carreras Bling Blog
Recent jewelry news, info and Carreras Events.

Carreras Jewelers is holding its annual jewelry repair event from July 16-31. Save 20% on jewelry repair (excluding watches), pearl restringing, insurance appraisals, and custom jewelry design work.
Jewelry Repair work includes:
Re-size, clean and polish rings
Re-set, tighten or replace stones
Refurbish mountings, re-tip and replace prongs
Shorten or lengthen chains
Change clasps
Solder charms
and more!
Have you been procrastinating getting that necklace restrung? It's recommended that you restring a pearl necklace regularly, as the string can become worn out and break easily. Pearls that are worn often should be restrung yearly, and pearls that are worn only on special occasions should be restrung every two to three years.
Other pearl jewelry work includes:
Tighten and strengthen your old or damaged strand of pearls
Restyle and update your design
Restring your colorful beads and dye the silk to blend with your beads
Are you looking to create a piece of custom jewelry? Our team will work with you and redesign a current piece or build a new piece from scratch. We can even design jewelry to match a current piece in your collection, and during the sale, the work is being offered at a 20% discount.
Update your Jewelry Insurance Appraisals at a 20% discount during the sale (up to 10 items). You will need to call and make an appointment with Tami Toms, our Certified Gemologist and Certified Gemologist Appraiser. By choosing an AGS-certified Appraiser, you can rest assured that you're working with a professional who has been trained and certified. Our appraiser will thoroughly inspect your jewelry and get you a value that is as accurate as possible. We recommend getting your jewelry appraised by us every three to five years to update your insurance policy so you will be covered in the case of loss, or to get a measurement on your investment.
For more information or to schedule your appraisals, call 804-282-7018.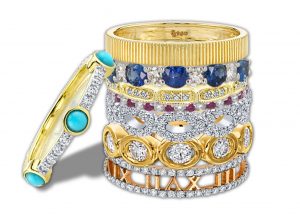 Carreras Jewelers has the privilege to help women celebrate their milestones and personal successes with a piece of jewelry every day. We call it Stacking on your Success. A stack of rings symbolizing children, a diamond pendant representing a promotion, a silver bracelet to celebrate beating breast cancer, a gold charm to celebrate a graduation.
Start with one piece of jewelry to celebrate one success, then begin to build one item on top of another for each new success. You will be reminded every day of all your amazing accomplishments.
Carreras Jewelers is giving you the chance to Stack on YOUR Success and Stack on the Savings! Join us for our ONE DAY ONLY Stacking Sale on June 25 from 10 a.m. to 5 p.m. Plus, a special brunch from 11am – 2pm!
How to stack on the savings: (discount applies to entire purchase. Loose diamonds excluded. Certain restrictions apply)
10% on one piece of jewelry
15% on two pieces of jewelry
20% on three or more pieces of jewelry
The Stacking Sale is part of our "Stack on Success" campaign. For the initiative, we had people nominate special women in the community and were overwhelmed with the response. In the end, we selected 12 women. They were featured in our marketing material and took part in a photo shoot with our exquisite pieces of stacked jewelry.
The event also features a special brunch from 11 a.m. to 2 p.m. Stop by and meet the successful women featured in our Stack for Success campaign. Plus, enjoy food, champagne, and mini manicures from Polish' by Nicole!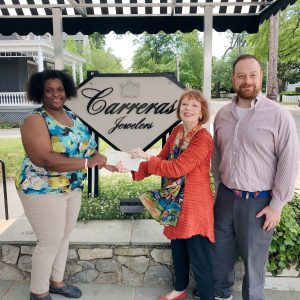 Carreras Jewelers is excited to announce that we have awarded the $5,000 Bill Carreras Memorial Grant to Carmel Empowerment, to be used in the construction and management of a community garden in the Historic Jackson Ward neighborhood, specifically in the Gilpin Court Housing Complex.
Nearly 100 non-profits applied for the competitive grant, and five finalists were selected: The Nora Houston Foundation, Real Chances Inc., Richard Bland College Foundation, Renew Richmond and Carmel Empowerment. Representatives from Carreras interviewed each finalist, in order to gain a better understanding of each project.
The Carmel Empowerment Community Garden was started by Jovonni Armstead, who has been working for the past year to get the garden up and running. Armstead wants to educate community members about growing their own fruits and vegetables and plans to involve the community in the garden, hoping to have people participate in workdays throughout the growing season. The grant money will be used to purchase soil, build a fence and construct a shed on the property.
The Bill Carreras Memorial Grant is an effort by Carreras Jewelers to give back to the Richmond community. Last year, the grant was awarded to Reinhart Guest House for a mural project.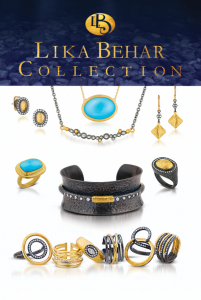 East meets West with the fantastic jewelry of Lika Behar. Born in Istanbul, Behar's jewelry combines gemstones of every color with gold and sterling silver. It has an ancient sensibility with a modern feel.
"From the beginning, I had a vision of what I liked," she was recently quoted. "It's what I wear myself. I enjoy wearing jewelry that's elegant and stylish, with precious metals and gems, but that's casual, not too formal. It fits how we dress today — jewelry that you can wear with jeans, casually elegant. I've always used the finest materials. I'm a jeweler's daughter. Our family doesn't do costume jewelry!"
Want to experience her amazing collection firsthand? Join us for a Trunk Show that will feature some of the finest pieces in her collection.
The event takes places May 1st from 10 a.m. to 5 p.m.
You can't buy Lika Behar jewelry anywhere else in the Richmond area. At the event, you can try on her collection and see how well her unique aesthetic appeals to your sensibilities. You won't want to miss out on this amazing opportunity.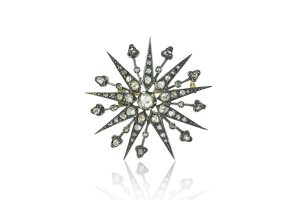 Friday, April 12th -10am – 5pm | Saturday, April 13th – 10am – 5pm
Prepare to be dazzled at our specialty Spring Estate Jewelry Show featuring a collection of the most coveted estate jewelry and diamonds including signed pieces from designers such as Cartier, Van Cleef & Arpels, Tiffany & Company, Raymond Yard, Boucheron, and Henry Dunay. Be the first to shop at our evening reveal on Thursday or stop by at your convenience on Friday and Saturday 10am – 5pm. We look forward to seeing you there!