Carreras Bling Blog
Recent jewelry news, info and Carreras Events.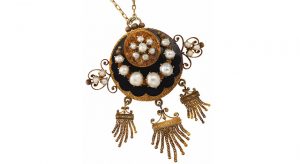 Style and sophistication are two words that describe vintage jewelry. These are pieces of jewelry from the late 19th century to the middle parts of the 20th century. — Periods in time where people like Coco Chanel and F. Scott Fitzgerald defined elegance.
Want to see some of the finest vintage jewelry in the region? Carreras Jewelers, known as a leader in vintage jewelry, is holding our annual estate sale. Our buyers scour estate sales, auctions and other places to purchase the finest vintage jewelry in the country. We only select items that meet our distinct tastes. We want pieces that we know our customers will admire.
The event places Dec. 1 through Dec. 5 from 10 a.m. to 4 p.m. at 121 Libbie Ave. in Richmond. It's an opportunity to see these amazing, one-of-kind pieces of jewelry.
The following time periods will be represented:
Victorian – The Victorian period follows the reign of Queen Victoria in Great Britain from 1836 to 1901. Queen Victoria's love for her husband and children inspired jewelry that reflected a romantic and sentimental outlook. Flowers, hearts, bows and birds inspired beautiful pieces of jewelry, which showed the craftsmanship of the Victorian age.
Art Nouveau – The Art Nouveau period began circa 1890 and ended around 1919. This period represents the turn of the century and the coming of the "modern age." Jewelry that was created during the Art Nouveau period embodied art for the sake of art, as well as a dramatic trend in fashion and a rejection of industrialization. Free-flowing, asymmetrical lines were important and emphasized the designer's innovative skills.
Edwardian – The Edwardian Period lasted from 1901 to circa 1920. Edward VII and his lovely Danish bride Alexandria brought a cosmopolitan flair to fashion and jewelry during this exuberant time in history. Jewelers used platinum and diamonds to create intricate and delicate filigree patterns that resembled lace. Light and airy designs became hallmarks of Edwardian jewelry.
Art Deco – The Art Deco Period, which began circa 1920 and ended around 1935, produced dazzling jewelry that was in sharp contrast to the jewelry of the previous periods. The emphasis shifted from soft colors and flowing lines to bold, bright colors and straight lines. The Art Deco period embraced industrialization and the big bold geometric designs.
Retro – The Retro jewelry period began in the 1930s during the depression years and lasted through the 1950s. Jewelry during the Retro period is characterized by chunky styles that showcased large colorful gemstones in over-sized cuts. Synthetic rubies and sapphires were popular along with citrine, amethyst and aquamarine. Gold became the metal of choice, as platinum was not available to the jewelry industry during World War II. Designers opted for multi-colored jewelry pieces in a tasteful combination of rose, yellow and green gold.
We have been running our estate sale for over 20 years. People continue to be amazed at the pieces we offer year after year. The event is the perfect opportunity to start the holiday shopping season and purchase that unique gift for someone you love. Our experienced staff will be on hand to answer any questions you might have about the jewelry. We can talk about the unique attributes of a particular piece and where it fits into the style of that period.
We will also have signed pieces from designers like Tiffany & Co, Cartier, Van Cleef & Arpels, Mauboussin, Fope, Mikimoto, and Georg Jensen. Our featured item this year is a "copy" of a Georgian piece found in the archives of the Victoria and Albert Museum.
Feel free to contact us if you have any questions. We are encouraging you to make an appointment prior to viewing the item because many of them are not available on our website. That way you can get a private viewing and maintain social distancing. We follow CDC guidelines to wear a mask and require everyone to stay socially distant. You can also check out our Facebook page to see some of the amazing jewelry.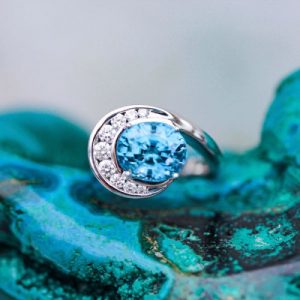 Have you ever thought about where your jewelry comes from? Have you ever wanted to know whether ethical mining practices were being used when mining for gemstones? Do you want to create an environment where local communities benefit from the jewelry business?
If you answered yes to these questions, you need to discover jewelry from Parle Jewelry Designs. Based in Idaho, Parle has spent decades promoting and advocating for ethical practices in the jewelry and mining business. It is the reason the company works with The Devon Foundation. The foundation started when several jewelers visited Madagascar and saw that people in the community did not have enough knowledge about gem cutting and crafting. The organization now works to find and train local people to work in the gem business and believes the effort benefits the economy of the community.
Parle supports that mission and wants the jewelry business to benefit local communities. Gemstones from the company's "Sharing The Rough" collection go to fund The Devon Foundation and its efforts to train people in gem-cutting and other skills within the gem industry. As well, money raised from the sale of the gems goes toward paying for school lunches. The foundation is now solely responsible for the Kitarini school lunch program, which feeds over 500 young Maasai boys and girls, providing 10,000 meals a month. This way the stones within the collection improve the lives of everyone where the stones originated.
Parle has always wanted to be a source for good in the world. The company was founded in 1970s by Frank Farnsworth. Frank was born in New Hampshire and moved to Idaho as a young boy. He used to visit a local shop that carried rare stones and became fascinated with them. The shop owner taught him a lot about the different types of stones and how to identify them.
After graduating from college, Farnsworth began mining opals out of the Lost Deer Hunt claim in Spencer, Idaho. He loved the work and soon began selling opals at trade shows around the country. Over time, Farnsworth realized it was better to sell jewelry with the stones rather than just selling the stones.
"The jewelry was the wheels on the car," Farnsworth said. "We needed the jewelry to make the stones go."
Over the years, the business has grown and now carries a variety of jewelry with various gemstones besides opals. From amethyst to emeralds and topaz, Parle carries a line of jewelry to please everyone.
The company was originally called the Idaho Opal & Gem Corp. but adopted the moniker "Stones that Speak" when it took the name Parle. The saying was from a client who remarked: "Frank, I notice every gem you buy must speak to you." That is how Frank became a world-renowned expert in gemstones.
The company is still headquartered in Idaho and has developed partnerships around the globe. Parle manufactures jewelry at a 17,000 square foot building and its products are sold at jewelry stores around the country.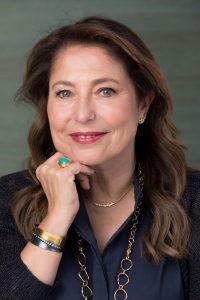 Lika Behar's jewelry combines a modern aesthetic with ancient sensibilities. The jewelry mingles gemstones, gold and silver with specialized craftsmanship, giving the pieces a unique style and texture.
Behar traces the inspiration for her designs back to Istanbul, Turkey, where she was born. The region is the historical crossroads between Europe and the Middle East and has a tradition of unique architectural and artistic designs. As a child, she wandered the streets of the ancient city and explored the Grand Bazaar, one of the oldest covered markets in the world. The market has thousands of booths where artisans displayed their unique designs. Behar would soak up the sights and smells of the market almost on a daily basis.
Her father and grandfather added to the stimulation. They owned a shop in Istanbul that bought and sold ancient coins and jewelry. Behar spent large amounts of time at the shop during her formative years and studied the ancient designs.
At a young age, Behar came to the United States where she studied economics and political science at New York University. After college, Behar worked in banking but eventually landed in the children's fashion world. But her roots in the jewelry business kept calling her. She saw inspiration everywhere and wanted to bring her unique sense of style to a larger audience. In 2008, she launched the Lika Behar Collection. She developed a line of jewelry and partnered with jewelry stores across the country to carry her product line.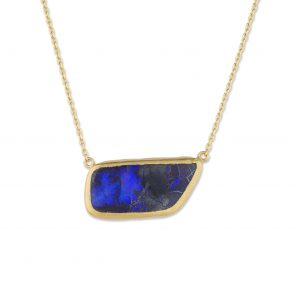 Behar has always been a worldly woman — she speaks four languages: Turkish, English, French and Spanish — and her jewelry reflects this fact. Her pieces are primarily crafted in Turkey, but the stones mostly come from the United States. All of the stones are ethically sourced, and Behar makes certain to only purchase stones from reputable dealers.
Since its formation, the business has grown, and she now employees a staff of family and friends who help turn her visions into reality. The jewelry is inspired by ancient designs but is modern and wearable. Her pieces are suitable for a business lunch or a night on the town. They are casual yet glimmer with sophistication. The designs are made using techniques that were common during Greek and Byzantine times, and the silver is blackened similar to the way artifacts are discovered at architectural sites.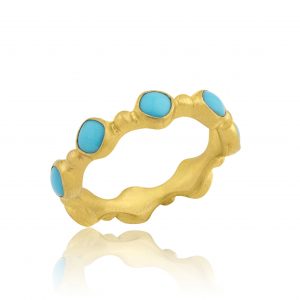 Her unique designs have been noticed within the jewelry business, and her collection has received numerous awards. She has been a Jewelers' Choice Finalist and received recognition from the Cultured Pearl Association. Her designs were a finalist for both the Jewelry Industry Authority awards and InStore Design awards.
"I am truly honored and humbled by the variety, frequency, and the sheer amount of awards I have received over the short 12 years my work has been in the marketplace," Behar said. "Most if not all of these awards were bestowed on Lika Behar Collection by our peers in our wonderful jewelry industry."
A wedding is an amazing event for any couple, and no wedding is complete without an exquisite wedding cake. Since Roman times, desserts have played an important role in a couple's wedding nuptials. Today, vows are said and rings are placed on each partner's finger. Then, a meal is consumed and cake eaten — a shared devotion to the couple's love.
According to a recent study, nearly 80 percent of weddings include some kind of dessert. Desserts come in all shapes and sizes, but most couples want a multi-tiered wedding cake. The cake can be decorated with anything from flowers to superheroes, depending on the interests of the wedding party.
Are you looking for a wedding cake for a Richmond-area wedding? Richmond has some outstanding bakeries and independent bakers. They offer everything from traditional wedding cakes to unique custom designs. Most offer tastings, but some do charge a small fee. Imagination is the only limit.
Note: Please contact the bakery about the availability of tastings as these are subject to change during the pandemic.
Baked with love and inspired by grandma. Laurie Chapman Blakey's grandmother taught her to bake. When she opened Pearl's Bake Shoppe in 2010 she named it after her grandmother, Pearl Gentry Chapman. The bakery is located on Patterson Ave and has a private room to taste wedding cakes. It offers over 120 flavors and provides gluten-free, vegan, and sugar-free options. Blakey's grandmother created many of the recipes.
One of Richmond oldest retail businesses, Westhampton has been making wedding cakes since 1952. The bakery provides a consultation and tasting during the wedding cake selection process, but appointments are required. Pound cake is used for all wedding cakes, and there are seven different flavors. The cakes are custom-designed and iced with buttercream.
Sweet Fix specializes in custom cake orders and offers fondant and buttercream wedding cakes. It's been a Wedding Wire Couple's Choice Award Winner since 2014 and has a gluten-free option. The bakery is not open to the public and appointment is required for a consultation. The designers work closely with the couple so the design matches the wedding theme.
River City Sweets is a small-batch bakery established in 2013. It operates out of a private residence in Richmond and makes custom-designed wedding cakes. The bakery will work with the couple to accommodate dietary restrictions and special needs. A "To-Go Tastings" package is offered, where samples of four of its most popular flavors can be consumed at the home. Traditional wedding cake consultations are also offered at the residence.
Katherine's is a small bakery in Chesterfield County. The bakery offers custom wedding cakes and only produces one or two cakes per weekend during wedding season. Tastings are available by appointment and 10 cake flavors are offered. The bakery uses buttercream but not fondant icing. Cupcakes and mini cupcakes are also offered.
Melissa started Melissa's Simply Sweets after feedback from a cake for her son's birthday party. She now runs a custom baked shop and offers numerous flavors and styles. Each cake is custom-built. Tastings are available for wedding parties over 100 and four cake flavors and two icing flavors are provided. She prefers only two to three people at a tasting.
The Mixing Bowl is a small, neighborhood bakery on Richmond's West End. Founded in 1926, the bakery offers a one-hour consultation. Wedding cakes as well as a variety of wedding desserts are offered. Nine cake, six filing and four icings are standard but additional styles and flavors are available upon request.
Ukrop's bakery was originally part of a supermarket chain, but become independent when the chain of stores was sold. The bakery has been in operation since 1976, and offers nine-pound cake flavors and makes traditional and fondant icing. They are hand-decorated and delivery options are available.
Owner Sara Ayyash is the former executive pastry chef at the Jefferson Hotel and started Sugar and Salt several years ago. Most cakes are three layers tall and contain two layers of icing. Buttercream, fondant and ganache are the main offerings. Cakes can be designed based on a drawing and are sometimes decorated with fresh flowers.
Opened in 2015, Morsels is a bakery on the Northside of Richmond. The hidden gem is distinguished by a pink door. The founder started baking for friends, and that grew into a business. The bakery offers $30 tastings, which are usually scheduled on Thursdays and Fridays. A vegan option is available as well as a variety of buttercream toppings.
While not a traditional bakery, Carytown Cupcakes offers 4-inch and 6-inch cupcakes for a wedding. A variety of cupcake flavors are sold. The shop offers tasting for weddings with 75 or more guests. Custom colors and decorations can be ordered. A custom flavor can be developed for an additional fee. Vegan or gluten-free cupcakes are available.
We are so excited; we're reopening!
After being closed for nearly three months due to the governor's stay-at-home order, Carreras Jewelers is reopening on Tuesday, June 2.
But to ensure everyone's safety, we have established strict guidelines. To start, we will be limiting the number of people who enter the store at any given time. Please call 804-282-7018 when you arrive and let us know that you are waiting. We strongly encourage people to make an appointment before they arrive. That will help us better manage the number of people inside the store.
We have limited hours:
Jewelry store hours
Tuesday – Friday 10 a.m. – 4 p.m.
Please call or text 804-282-7018 for an appointment.
Carreras Buying Office
You can only visit with an appointment.
Please call 804-673-1967 to make an appointment
We will be practicing the following rules:
Social distancing
Please respect the distance between staff and customers. That applies both inside and outside the store.
Facemasks must be worn inside the store
We will provide complimentary disposable facemasks. If you need one, disposable masks are located inside the foyer. All of our staff members will be wearing masks. We have the right to refuse entry to anyone whose face is "overly" covered.
Stay home if you have been sick within the past two weeks
Following guidelines from the Centers for Disease Control, no one should enter the store if they or a member of their household has been sick within the past two weeks.
Multiple cleanings
We will clean any piece of jewelry after it is shown to a customer and will be cleaning and disinfecting surfaces throughout the day.