Recent jewelry news, info and Carreras Events.
Wedding planning "officially" begins after the perfect engagement ring (from Carreras Jewelers, of course!) is slipped on the finger. We say "officially" because let's face it…your Pinterest boards are already filled with ideas, including a variety of Richmond wedding venues.
Richmond wedding venues come in a variety of styles and formats. They range from the urban landscape of downtown Richmond to country estates in pastoral settings. You can choose from outdoor gardens to art museums. The collection is as varied as Richmond.
When deciding on a venue, you want one that fits your needs, lifestyle, and your wedding vibe. You have to consider the number of guests who will be attending the ceremony and reception as well as the type of meal. Will it be a sit-down meal or do you want to do buffet style? You need to think about what type of experience you want for your guests, but you also must stay true to a vision that fits with your personality.
With endless possibilities for a venue in Richmond, please enjoy a collection of some of our favorites!
Boathouse at Rockets Landing
The Boathouse is "the epitome of a homegrown Richmond restaurant". The organization offers wedding and reception facilities at its Rockets Landing, Sunday Park and Hopewell locations. Each is situated on the waterfront and offer indoor and outdoor facilities as well as an event coordinator.
Dover Hall
Located northwest of Richmond, Dover Hall is an English Tudor estate. The facility is 33,000 square feet on 55 acres. It contains a two-story ballroom with wrought iron chandeliers and Gothic motif. The wedding party has access to a bridal suite, and ceremonies can be held inside or outside on the property. The 5,400 square foot pavilion can accommodate up to 400 guests. A summer kitchen can be used for the reception.
Lewis Ginter Botanical Garden
Lewis Ginter was a businessman and tobacco company founder. When he died, Ginter gifted his estate to a foundation, and Richmond's largest arboretum is located on the 80-acre property in North Richmond. Flowers and custom landscaping cover the property. Conde Nast Traveler named it One Most Beautiful Botanical Garden in the U.S in 2017. During wedding season, the facility has three reception venues that are paired with an outdoor garden space for the ceremony. Sizes vary depending on needs. Indoor space is also available during the winter months.
Linden Row Inn
Linden Row Inn is a boutique hotel in downtown Richmond. It is a series of row houses built around a courtyard. The courtyard has a fountain and brick patio and serves as a facility for weddings and receptions. The area can serve up to 125 guests and the courtyard can be tented! The facility was given the WeddingWire Couple's Choice Awards in 2018.
Main Street Station
Built in 1901, Main Street Station is the central railroad station in Richmond, and a restoration project was completed in 2018 to the historic structure. The Victorian-style Headhouse and The Shed are the main rooms for weddings at Main Street Station, and can hold over 700 guests! Dressing facilities are available for the bridal party on site and live music is allowed.
Manakin Mansion
Edward Thurston Mankin built a 7,000-square-foot mansion in the early 20th century east of Richmond. The house is modeled after the architecture of Colonial Williamsburg and the Jamestown Church. The house and property have been restored, and serves as a wedding venue. Weddings and receptions are held outdoors in the English Gardens or European Gallery, and the venue was given The Knot's Best of Weddings Award. Overnight accommodations are also offered onsite.
Maymont
In 1893, businessman James H. Dooley and his wife Sallie built a Victorian estate on top of a hill in Richmond. The 100-acre estate is now open to the public, and the Richmond Times Dispatched named it Best Wedding Venue in 2016 and 2017. Weddings and receptions take place throughout the property and gardens, and it has room for gatherings of up to 500 people. Maymont Mansion is available as a backdrop for outdoor weddings.
Quirk Hotel
The Quirk Hotel was built in 1916 and housed the J.B. Mosby and Co. dry goods store in downtown Richmond. The Renaissance-styled space is filled with arches and groin ceilings. It was renovated and turned into a boutique hotel. A wedding party can hold the ceremony and reception at the hotel. The facility can host large and small gatherings. It has a cocktail space on the rooftop and indoor and outdoor gathering spaces.
The Jefferson
The Jefferson is an historic hotel in downtown Richmond. Built in the late 18th century, Richmond's political elite often roam the hotel when the legislature is in session. The décor is historic and elegant. The hotel's grand staircase provides the perfect place for photographs, and the rotunda sets the tone during cocktail hour. Rooms are available for both the reception and ceremony. The Jefferson has space for weddings with over 300 guests.
The Renaissance
The Renaissance contains a larger Victorian-style ballroom in the heart of downtown Richmond. The space has a 30-foot ceiling, and three giant chandeliers hang from the ceiling. The ballroom is available for both ceremonies and receptions and can host up to 250 people seated. The Knot named it a 2018 Best Of Weddings.
Tredegar Iron Works
During the Civil War, Tredegar Iron Works produced a majority of the iron for the Confederacy. The property has been preserved, and the 9-acres, which is located on the banks of the James River near downtown Richmond, is listed as a National Historic Landmark. The iron works building is not available for rental, but weddings and receptions are held outdoor in the courtyard. Electricity and facilities for the wedding party are available. Tents can be set up to cover the event.
Tuckahoe Plantation
Thomas Jefferson grew up on the Tuckahoe Plantation west of Richmond, and it is a National Historic Landmark. The plantation home was built between 1730 and 1740, and Jefferson was educated at the one-room schoolhouse on the property. Outdoor weddings and receptions are held at the plantation, and the venue can host up to 500 guests. The bridal party can use the facility for dressing.
Upper Shirley Vineyards
Upper Shirley sits on a bend in the James River and is located 30 minutes southeast of Richmond. The property has 19 acres of vineyard. Vows can take place along the river or the winery. Guests will have a view of a 1,300-acre island bird sanctuary, and the oldest farm in the country is nearby. Upper Shirley will host up to 300 friends and family, and an in-house catering team is offered. Wines include chardonnay, merlot and sauvignon blanc.
Virginia Museum of Fine Arts
Located in Richmond's Museum District, the Virginia Museum of Fine Arts is the state museum of Virginia and built on the site of a former camp for soldiers after the Civil War. The museum does not hold weddings, but does host rehearsal dinners and receptions. Both indoor and outdoor space is available and photography is allowed throughout the property. An event on the terrace can serve up to 400 guests, and the Cochrane Atrium can provide space for 800-standing or 300-seated guests.
Canadian designer Noam Carver has been making jewelry has entire adult life. At 18, he apprenticed with a master jeweler in Montreal. That experience laid the foundation for his career as one of the top custom jeweler makers in the world.
Carreras is now an authorized Noam Carver dealer. The company will carry a bridal ring series. Customers can experience the rings online or in the store. His rings are lasting treasures that she will love forever.
Carver says his design process involves imagination, translation and implementation. He begins by thinking and dreaming about the piece. He then uses drawings and 3D printing to bring the design to life. Finally, the piece is assembled with some of the finest metals and stones in the world.
"With computer design and 3D printing, I harness the latest technological advances to expand my art, creating with a level of precision and excellence higher than ever thought possible," Carver says.
Carver pays an inordinate amount of attention to detail. He wants his rings to be flawless and makes sure every aspect of a piece of jewelry is perfect.
That effort has won him numerous awards. They include: MJSA, Canadian Jeweler, National Jeweler, National Jeweler "Best Of", and the 2017 Centurian Designer Award for an "Edwardian-inspired enameled engagement ring with a contemporary twist."
Visit our in-stock Noam Carver engagement rings and wedding bands here.
Carreras Jewelers is holding its annual Jewelry Summer Sale July 26-28. It's a chance to get out of the summer heat and shop for an stunning new piece of jewelry. During the sale, you will save between 30%-70% on fabulous earrings, necklaces, rings, pendants and other fine jewelry.
Let us give you a taste of what will be up for grabs at amazing prices during our Jewelry Summer Sale with these three stunning pieces of jewelry. They would be a nice addition to any women's jewelry collection.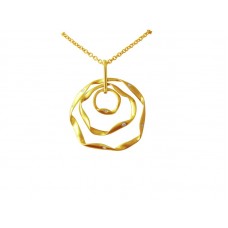 This Cherie Dori 14KT yellow gold and diamond "ribbon" pendant is a great transitional piece. Wear it during the work week, on the weekend to hop around the avenues, or out to dinner with your favorite date. It features three satin-finish ribbon circles with round diamond accents. It's a unique and exquisite pendant. Regular price: $1850. Jewelry Summer Sale price: $740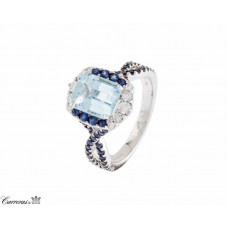 Our Christophe Danhier 18KT white gold "Candide" aquamarine, sapphire and diamond ring is a stunner. It features one center emerald cut aquamarine flanked by 54 round faceted blue sapphire. The ring is accented with 10 full-cut diamond melee. It will sparkle and shine on any woman's finger. Regular price: $4965 Jewelry Summer Sale price: $1986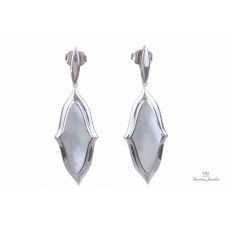 These Kabana sterling silver white Mother-of-Pearl dangle earrings feature a pair of marquise-shaped drops with white Mother-of-Pearl inlay and are finished with posts and friction backs for pierced ears. Kabana is known as the Master of Inlay and it is easy to see why once you feel the smoothness of these earrings. Regular price: $495 Jewelry Summer Sale price: $198
$100 gift card giveaway
Who wouldn't want an extra $100 to spend? As part of the Jewelry Summer Sale, we're giving away a $100 gift card. You're entered into a drawing with each purchase at Carreras. The more you buy…the more chances you have to win!! The winner will be announced July 30.