Carreras Bling Blog
Recent jewelry news, info and Carreras Events.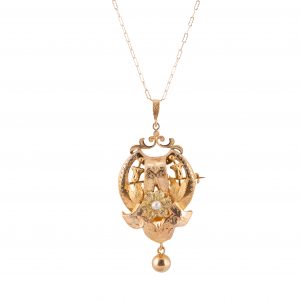 Carreras Jewelers is known in Richmond as a leader in estate jewelry. Our buyers purchase incredible jewelry from the public as well as work with estate jewelry dealers nationwide to provide a unique and ever-changing selection. Our Gemological Institute of America (GIA) certified Appraiser looks at each and every piece and selects the best of the best to be sold in our store and online.
Each year we transform the sales floor into an estate jewelry lover's dream for two days during the holiday season for a Fine Antique and Estate Jewelry Event. This year it takes place Nov. 30th and Dec. 1st from 10 a.m. to 5 p.m. at 121 Libbie Ave. in Richmond.
Every case in our store will be filled with estate jewelry from the Victorian, Art Nouveau, Edwardian, Art Deco, Retro, and Contemporary time periods. Treasure hunters will be able to find everything from a classic strand of pearls to one-of-a-kind Victorian 18K Gold Floral Brooch with Pendant Bail.
The event is the perfect opportunity to start the holiday shopping season and purchase that meaningful gift for someone you love.
We look forward to seeing you for our Fine Antique and Estate Jewelry Event!
The Holiday Season is sneaking up on us. Pumpkin spice lattes are being sipped at local coffee shops, people are making travel plans, and sparkly wish lists are being made.
The real question though is — what sparkles do YOU want for the holidays? What about a Lika Behar Oxidized Sterling Silver, Laboradorite, Moonstone And Diamond Cuff Bracelet or a classic piece of estate jewelry from our fine collection? Maybe it's the pair of diamond stud earrings you have always wanted?
Just like when you were a kid, you can fill out your very own wish list. You don't have to mail it to the North Pole though. We are holding Wish List Week from Nov. 5 through Nov. 10. You create a list of fine jewelry that you'd like to be given from Carreras Jewelers over the Holiday Season and holiday elves will do the rest! It's easy to create your own list. Either browse our website and start adding items or stop by the store and fill one out while you are here. Load your list up with diamonds, rubies, sapphires, necklaces, bracelets, rings…the possibilities are endless!
Wish List Week makes shopping a whole lot easier for someone who cares about you and there is no worrying about whether or not you like the gift, because you've already selected it.
During Wish List Week only…each person who fills out a wish list will be entered to win a $100 gift certificate. Perfect to use towards an item on you wish list!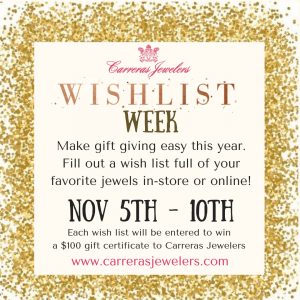 We love fall. The leaves are changing. The air is cool and crisp, and the days grow shorter as winter begins to settle over us. It's a time of transition.
Another reason we adore fall – ENGAGEMENT SEASON! Soon-to-be grooms and couples together flock to our store to start discussing engagement rings and diamonds. They each have different questions and ideas, but they all want the perfect ring for that will start this new journey in their life.
Selecting an engagement ring is a process that many have already started before they walk in our doors. There have been discussions with friends, hints have been dropped, and Pinterest boards have been made. It is our job to collect all that information and produce the perfect ring.
We start by asking a lot of questions. What are types of jewelry does she like? Is her style modern, trendy, vintage, classic, etc? Do they already have a particular style of ring in mind? Will the ring they are looking for work for her lifestyle?
Usually, we know the moment they have found the perfect ring. We can see it in their eyes. Sometimes, we even know it before they do! Weddings are such a sincere moment in a couple's life, and we love to be the starting point for the adventure.
We are often asked which engagement rings do we see couples choosing. And the answer for this changes depending on style, fashion, and trends. However, there are always the classics that we have in our cases that never go out of style.
We thought it would be fun to answer this question though as if someone just walked into the store today. So, without further ado and in no particular order…here are 5 engagement ring styles and designers that our clients love!
Estate Engagement Ring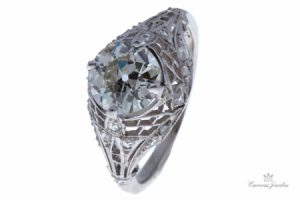 Carreras Jewelers has long been known for its Estate Jewelry including estate bridal. Estate simply means that it has been previously owned. It may be a contemporary style ring, or it may be a time period piece such as Edwardian or Art Deco.
Couples like to browse our estate engagement rings because it can mean a break in the price, but often times we hear people say… "I just love the filigree work of this ring", "I am looking for something different", or "I love the thought of the history of this ring".
Vintage and antique rings have looks that are easy to mark when they were popular. Edwardian engagement rings, such as this Edwardian Engagement Ring are often platinum and show off the beautiful filigree work and older cut diamonds.
Art deco engagement rings, such as this Platinum Diamond and Sapphire Engagement Ring showcase geometric designs that sometimes include other gemstones such as sapphires, rubies, and emeralds.
Peter Storm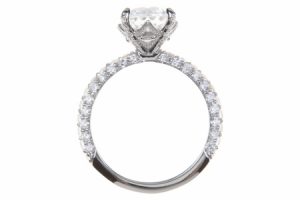 At Carreras Jewelers, we love to carry jewelry lines from designers, such as Peter Storm, that you will not find anywhere else in the area. Peter is our most popular bridal designer, and we often see brides-to-be gravitate immediately to his halo and three-stone engagement rings. His designs are stunning, and the quality of his work often shines through the case.
When you visit Carreras for engagement rings we will lead you to two cases full of engagement rings. The first case displays rings that are ready to go home that day. They are set with diamonds, and the only customization available is sizing.
However, in our second case we display engagement ring mountings that do not include the center diamond. These mountings are perfect for someone who wants to be a little more involved on the design of the ring and the selection of the center diamond. Some clients have heirloom diamonds that they want to use and some browse and purchase diamonds from the selection that we have in-store. While other couples opt to use a colored gemstone such as a sapphire instead of a diamond.
To provide you with the best selection of Peter Storm we have a few that are ready to go home with you that day such as this 14kt White Gold Diamond Halo Engagement Ring. However, since his customization option is highly popular we have most of his line in our mountings case such as this 18kt White Gold Pave Engagement Ring.
Noam Carver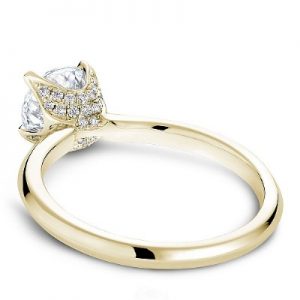 We are ecstatic to now be carrying Canadian Designer, Noam Carver. His rings are fully customizable, meaning they can be made to fit any size or shape stone and be made in white, yellow, and rose gold as well as platinum. There are rings for most bride's liking in his collection.
One of his bestsellers is this 14kt Yellow Gold Diamond-Accented Solitaire Engagement Ring that we have set with a 1.63ct diamond. Yellow gold solitaires have made a big comeback, and we love how he has taken a classic style of ring and updated it to add a little sparkle and interest with the pave set diamonds along the side of the head. This ring is also available in our mountings case without the center diamond for full customization.
His collection also includes more intricate designs such as his White Gold Cluster Diamond Engagement Ring. As shown here, this ring features a center of a 1.00ct round diamond surrounded by halo of diamonds surrounded by a second halo made up of round and baguette diamonds.
Gumuchian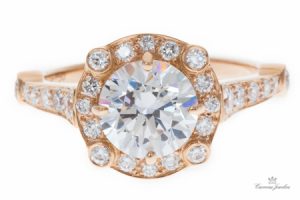 We see many brides who are awestruck by the jewelry from Gumuchian, a mother and daughter team out of New York who specialize in jewelry designed by women for women. They are meticulous with their attention to detail and their styles mirror the style of the modern woman.
We are especially fond of Gumuchian's rose gold pieces. There is something soft, luxurious, and romantic about them. One of our favorites is the 18kt Rose Gold Diamond "Carousel" Engagement Ring mounting. Once she slips this ring on she is sure to fall in love with it and say YES!
This ring also has a matching wedding band available, as well.
Carreras Custom Engagement Rings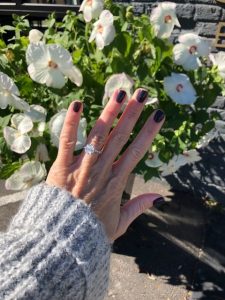 Custom engagement rings and wedding bands are a special part of our work at Carreras. We either start with a blank canvas or an exact idea of what the couple would like their rings to look like.
Some couples will bring in a Pinterest board full of ideas and different ring styles that they like and are looking to combine their ideas into a cohesive piece.
Other couples have actual drawings of what they want the ring to look like which gives the jeweler the exact idea of how the ring should look when placed upon her finger.
While others still browse our engagement ring mountings and look to put different shanks with different heads, choose the metal, and/or pick out the diamond that speaks to them.
We find that the groom-to-be often enjoys being a part of the ring design process and making it that much more meaningful to each of them when it is placed on her finger.
Each couple that visits Carreras has a different idea of what they are looking for in a ring that she will wear forever. Some want big and sparkly, some want it to be low-key. Some brides want to be surprised, and some want to be involved in every step and are sometimes proposed to in our showroom (we love it when that happens!). Some couples want two bands. Some grooms have no idea where to start where others pretty much know what she wants, and we just have to point him in the right direction.
In the end they all end up with a beautiful ring that is special to them and a ready to pop the question!
Wedding planning "officially" begins after the perfect engagement ring (from Carreras Jewelers, of course!) is slipped on the finger. We say "officially" because let's face it…your Pinterest boards are already filled with ideas, including a variety of Richmond wedding venues.
Richmond wedding venues come in a variety of styles and formats. They range from the urban landscape of downtown Richmond to country estates in pastoral settings. You can choose from outdoor gardens to art museums. The collection is as varied as Richmond.
When deciding on a venue, you want one that fits your needs, lifestyle, and your wedding vibe. You have to consider the number of guests who will be attending the ceremony and reception as well as the type of meal. Will it be a sit-down meal or do you want to do buffet style? You need to think about what type of experience you want for your guests, but you also must stay true to a vision that fits with your personality.
With endless possibilities for a venue in Richmond, please enjoy a collection of some of our favorites!
Boathouse at Rockets Landing
The Boathouse is "the epitome of a homegrown Richmond restaurant". The organization offers wedding and reception facilities at its Rockets Landing, Sunday Park and Hopewell locations. Each is situated on the waterfront and offer indoor and outdoor facilities as well as an event coordinator.
Dover Hall
Located northwest of Richmond, Dover Hall is an English Tudor estate. The facility is 33,000 square feet on 55 acres. It contains a two-story ballroom with wrought iron chandeliers and Gothic motif. The wedding party has access to a bridal suite, and ceremonies can be held inside or outside on the property. The 5,400 square foot pavilion can accommodate up to 400 guests. A summer kitchen can be used for the reception.
Lewis Ginter Botanical Garden
Lewis Ginter was a businessman and tobacco company founder. When he died, Ginter gifted his estate to a foundation, and Richmond's largest arboretum is located on the 80-acre property in North Richmond. Flowers and custom landscaping cover the property. Conde Nast Traveler named it One Most Beautiful Botanical Garden in the U.S in 2017. During wedding season, the facility has three reception venues that are paired with an outdoor garden space for the ceremony. Sizes vary depending on needs. Indoor space is also available during the winter months.
Linden Row Inn
Linden Row Inn is a boutique hotel in downtown Richmond. It is a series of row houses built around a courtyard. The courtyard has a fountain and brick patio and serves as a facility for weddings and receptions. The area can serve up to 125 guests and the courtyard can be tented! The facility was given the WeddingWire Couple's Choice Awards in 2018.
Main Street Station
Built in 1901, Main Street Station is the central railroad station in Richmond, and a restoration project was completed in 2018 to the historic structure. The Victorian-style Headhouse and The Shed are the main rooms for weddings at Main Street Station, and can hold over 700 guests! Dressing facilities are available for the bridal party on site and live music is allowed.
Manakin Mansion
Edward Thurston Mankin built a 7,000-square-foot mansion in the early 20th century east of Richmond. The house is modeled after the architecture of Colonial Williamsburg and the Jamestown Church. The house and property have been restored, and serves as a wedding venue. Weddings and receptions are held outdoors in the English Gardens or European Gallery, and the venue was given The Knot's Best of Weddings Award. Overnight accommodations are also offered onsite.
Maymont
In 1893, businessman James H. Dooley and his wife Sallie built a Victorian estate on top of a hill in Richmond. The 100-acre estate is now open to the public, and the Richmond Times Dispatched named it Best Wedding Venue in 2016 and 2017. Weddings and receptions take place throughout the property and gardens, and it has room for gatherings of up to 500 people. Maymont Mansion is available as a backdrop for outdoor weddings.
Quirk Hotel
The Quirk Hotel was built in 1916 and housed the J.B. Mosby and Co. dry goods store in downtown Richmond. The Renaissance-styled space is filled with arches and groin ceilings. It was renovated and turned into a boutique hotel. A wedding party can hold the ceremony and reception at the hotel. The facility can host large and small gatherings. It has a cocktail space on the rooftop and indoor and outdoor gathering spaces.
The Jefferson
The Jefferson is an historic hotel in downtown Richmond. Built in the late 18th century, Richmond's political elite often roam the hotel when the legislature is in session. The décor is historic and elegant. The hotel's grand staircase provides the perfect place for photographs, and the rotunda sets the tone during cocktail hour. Rooms are available for both the reception and ceremony. The Jefferson has space for weddings with over 300 guests.
The Renaissance
The Renaissance contains a larger Victorian-style ballroom in the heart of downtown Richmond. The space has a 30-foot ceiling, and three giant chandeliers hang from the ceiling. The ballroom is available for both ceremonies and receptions and can host up to 250 people seated. The Knot named it a 2018 Best Of Weddings.
Tredegar Iron Works
During the Civil War, Tredegar Iron Works produced a majority of the iron for the Confederacy. The property has been preserved, and the 9-acres, which is located on the banks of the James River near downtown Richmond, is listed as a National Historic Landmark. The iron works building is not available for rental, but weddings and receptions are held outdoor in the courtyard. Electricity and facilities for the wedding party are available. Tents can be set up to cover the event.
Tuckahoe Plantation
Thomas Jefferson grew up on the Tuckahoe Plantation west of Richmond, and it is a National Historic Landmark. The plantation home was built between 1730 and 1740, and Jefferson was educated at the one-room schoolhouse on the property. Outdoor weddings and receptions are held at the plantation, and the venue can host up to 500 guests. The bridal party can use the facility for dressing.
Upper Shirley Vineyards
Upper Shirley sits on a bend in the James River and is located 30 minutes southeast of Richmond. The property has 19 acres of vineyard. Vows can take place along the river or the winery. Guests will have a view of a 1,300-acre island bird sanctuary, and the oldest farm in the country is nearby. Upper Shirley will host up to 300 friends and family, and an in-house catering team is offered. Wines include chardonnay, merlot and sauvignon blanc.
Virginia Museum of Fine Arts
Located in Richmond's Museum District, the Virginia Museum of Fine Arts is the state museum of Virginia and built on the site of a former camp for soldiers after the Civil War. The museum does not hold weddings, but does host rehearsal dinners and receptions. Both indoor and outdoor space is available and photography is allowed throughout the property. An event on the terrace can serve up to 400 guests, and the Cochrane Atrium can provide space for 800-standing or 300-seated guests.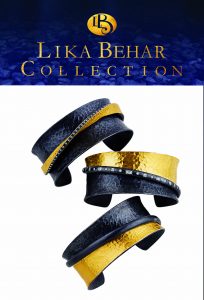 Join us at Carreras Jewelers as we introduce Lika Behar to our store with a Trunk Show of her gorgeous collection. Her pieces are not sold anywhere else in the area and they are a must see!!
October 5th & 6th 10am – 5pm
Istanbul born acclaimed designer Lika Behar creates unique and captivating works of wearable art. Inspired by ancient jewelry-making techniques, she uses pure 24k gold, sterling silver in oxidized or matte finishes, diamonds, and fabulous gemstones, in truly amazing color combinations.
Join us for this opportunity to shop this gorgeous collection!