Shop are amazing selection of graduation gifts
"Graduation" is just around the corner. While students might not be filling a gymnasium or auditorium this year, they will still be turning the page on an important chapter in their lives. So, why not celebrate this amazing achievement with a special gift?
We offer a wide array of gifts for high school and college graduates. As always, when you shop online with Carreras, we will send it beautifully wrapped and with free shipping.
Here are a few gift idea:
Classic gifts
Pearl Stud Earrings: Pearls are the perfect gift to send a graduate. We have a wide variety of pearls to choose from. We have classic classic white pearls, luscious black pearls, and colorful dyed pearl. Click here to see the selection. You can also click here to see our entire collection of pearl necklaces, bracelets and earrings.
St. Christopher's medals: St. Christopher is a patron saint of travel. Give the gift of protection as students begin the new chapter in their life. The medals come in two different styles, three different sizes, and can be engraved. They are perfect to wear as a pendant or on a charm bracelet. Click here to see our collection.
Other gift ideas
Cuff link box: This cuff link box is a great way to store that perfect pair of cuff links that a student wears at graduation. The box has a stripped interior and modern design. Click here to see the box.
Pewter Virginia Juelp Cup: This cup is the perfect recreation of a Virginia tradition. The 8 oz cup can be engraved with the graduate's name and the Class of 2020. Click here to see the cup.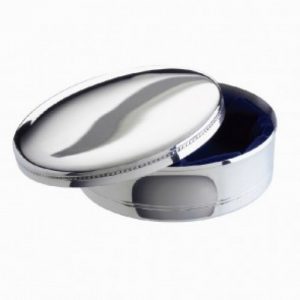 Pewter "Images of America" Jewelry Box: This jewelry box will last her a lifetime and a special reminder of her accomplishments. The top can be custom engraved. Click here to see the jewelry box.
Wolf "Palermo" travel jewelry case: Style and sophistication exemplify the Wolf travel jewelry case. Named after a seaport city in Italy, the box contains multiple compartments to store various types of jewelry. Click here to see the case.
Mastoloni 16″ Freshwater Pearl Necklace: For 100 years, the Mastoloni name has been synonymous with pearls. Any graduate would adore this classic set of pearls. Click here to see the fine necklace.
Mastoloni 14K Yellow Gold Pearl and Diamond "Empress" Earrings: Dangling pearl earrings are a unique way to display the beauty of a pearl. The earrings are topped with diamonds and celebrate a graduate's achievement. Click here to see the earrings.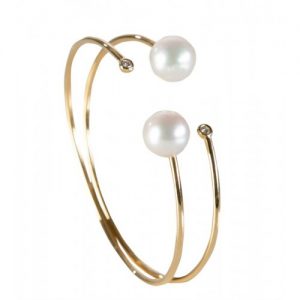 18K Yellow Gold Pearl and Diamond Bracelet: A double-cuff-style bracelet highlights this piece of extraordinary jewelry. The bracelet is perfect in both casual and formal attire and will make the perfect gift for a recent graduate. Click here to see the bracelet.