Annual estate sale Dec. 1 through 5th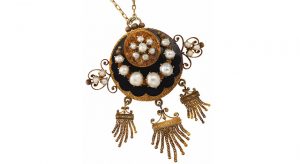 Style and sophistication are two words that describe vintage jewelry. These are pieces of jewelry from the late 19th century to the middle parts of the 20th century. — Periods in time where people like Coco Chanel and F. Scott Fitzgerald defined elegance.
Want to see some of the finest vintage jewelry in the region? Carreras Jewelers, known as a leader in vintage jewelry, is holding our annual estate sale. Our buyers scour estate sales, auctions and other places to purchase the finest vintage jewelry in the country. We only select items that meet our distinct tastes. We want pieces that we know our customers will admire.
The event places Dec. 1 through Dec. 5 from 10 a.m. to 4 p.m. at 121 Libbie Ave. in Richmond. It's an opportunity to see these amazing, one-of-kind pieces of jewelry.
The following time periods will be represented:
Victorian – The Victorian period follows the reign of Queen Victoria in Great Britain from 1836 to 1901. Queen Victoria's love for her husband and children inspired jewelry that reflected a romantic and sentimental outlook. Flowers, hearts, bows and birds inspired beautiful pieces of jewelry, which showed the craftsmanship of the Victorian age.
Art Nouveau – The Art Nouveau period began circa 1890 and ended around 1919. This period represents the turn of the century and the coming of the "modern age." Jewelry that was created during the Art Nouveau period embodied art for the sake of art, as well as a dramatic trend in fashion and a rejection of industrialization. Free-flowing, asymmetrical lines were important and emphasized the designer's innovative skills.
Edwardian – The Edwardian Period lasted from 1901 to circa 1920. Edward VII and his lovely Danish bride Alexandria brought a cosmopolitan flair to fashion and jewelry during this exuberant time in history. Jewelers used platinum and diamonds to create intricate and delicate filigree patterns that resembled lace. Light and airy designs became hallmarks of Edwardian jewelry.
Art Deco – The Art Deco Period, which began circa 1920 and ended around 1935, produced dazzling jewelry that was in sharp contrast to the jewelry of the previous periods. The emphasis shifted from soft colors and flowing lines to bold, bright colors and straight lines. The Art Deco period embraced industrialization and the big bold geometric designs.
Retro – The Retro jewelry period began in the 1930s during the depression years and lasted through the 1950s. Jewelry during the Retro period is characterized by chunky styles that showcased large colorful gemstones in over-sized cuts. Synthetic rubies and sapphires were popular along with citrine, amethyst and aquamarine. Gold became the metal of choice, as platinum was not available to the jewelry industry during World War II. Designers opted for multi-colored jewelry pieces in a tasteful combination of rose, yellow and green gold.
We have been running our estate sale for over 20 years. People continue to be amazed at the pieces we offer year after year. The event is the perfect opportunity to start the holiday shopping season and purchase that unique gift for someone you love. Our experienced staff will be on hand to answer any questions you might have about the jewelry. We can talk about the unique attributes of a particular piece and where it fits into the style of that period.
We will also have signed pieces from designers like Tiffany & Co, Cartier, Van Cleef & Arpels, Mauboussin, Fope, Mikimoto, and Georg Jensen. Our featured item this year is a "copy" of a Georgian piece found in the archives of the Victoria and Albert Museum.
Feel free to contact us if you have any questions. We are encouraging you to make an appointment prior to viewing the item because many of them are not available on our website. That way you can get a private viewing and maintain social distancing. We follow CDC guidelines to wear a mask and require everyone to stay socially distant. You can also check out our Facebook page to see some of the amazing jewelry.