Lika Behar Spring Trunk Show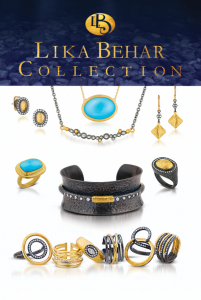 East meets West with the fantastic jewelry of Lika Behar. Born in Istanbul, Behar's jewelry combines gemstones of every color with gold and sterling silver. It has an ancient sensibility with a modern feel.
"From the beginning, I had a vision of what I liked," she was recently quoted. "It's what I wear myself. I enjoy wearing jewelry that's elegant and stylish, with precious metals and gems, but that's casual, not too formal. It fits how we dress today — jewelry that you can wear with jeans, casually elegant. I've always used the finest materials. I'm a jeweler's daughter. Our family doesn't do costume jewelry!"
Want to experience her amazing collection firsthand? Join us for a Trunk Show that will feature some of the finest pieces in her collection.
The event takes places May 1st from 10 a.m. to 5 p.m.
You can't buy Lika Behar jewelry anywhere else in the Richmond area. At the event, you can try on her collection and see how well her unique aesthetic appeals to your sensibilities. You won't want to miss out on this amazing opportunity.