Carreras Awards $5000 Bill Carreras Memorial Grant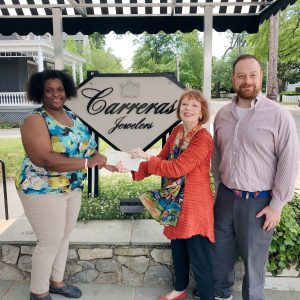 Carreras Jewelers is excited to announce that we have awarded the $5,000 Bill Carreras Memorial Grant to Carmel Empowerment, to be used in the construction and management of a community garden in the Historic Jackson Ward neighborhood, specifically in the Gilpin Court Housing Complex.
Nearly 100 non-profits applied for the competitive grant, and five finalists were selected: The Nora Houston Foundation, Real Chances Inc., Richard Bland College Foundation, Renew Richmond and Carmel Empowerment. Representatives from Carreras interviewed each finalist, in order to gain a better understanding of each project.
The Carmel Empowerment Community Garden was started by Jovonni Armstead, who has been working for the past year to get the garden up and running. Armstead wants to educate community members about growing their own fruits and vegetables and plans to involve the community in the garden, hoping to have people participate in workdays throughout the growing season. The grant money will be used to purchase soil, build a fence and construct a shed on the property.
The Bill Carreras Memorial Grant is an effort by Carreras Jewelers to give back to the Richmond community. Last year, the grant was awarded to Reinhart Guest House for a mural project.