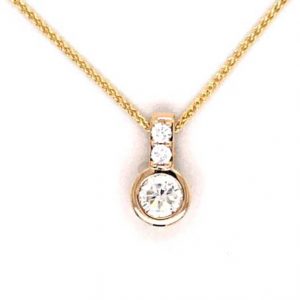 January 2021: Diamond Engagement Ring Redesign
There are countless reasons why someone may choose to create new jewelry from old jewelry, ranging from a simple aesthetic choice to very personal and sentimental reasons. Whether it is a style you've outgrown, something inherited or passed down through generations, or maybe a bauble from a relationship that didn't last, your jewelry has so much potential for the future! Yes, it IS possible to redesign jewelry — actually create new jewelry from old jewelry — into something that you'll want to flaunt instead of just hiding away in your jewelry box!
We hope you'll follow along with our series, 12 Months of Redesign & Restyling, as we explore common reasons some may hesitate to redesign jewelry, extol the benefits of repurposing and restyling sentimental pieces, and share before and after photos.
This month, we're sharing an engagement ring redesign that we recently completed. Our client brought us her engagement ring from 1983 that was in need of repair. She asked us to completely restyle it into a new and refreshed piece of wearable art. Working with our talented sales staff and our certified appraisers, the client decided on a 14kt yellow gold chain and setting for her existing diamonds. Now, she has a custom Carreras necklace, which will be enjoyed for years to come.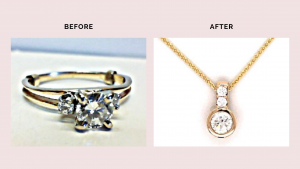 Would you like to "refresh" your outdated or worn jewelry? Perhaps you have an old family heirloom that is sentimentally important to you and your family, but needs a modern update? Or maybe two rings that you'd like to combine into one beautiful piece? With jewelry redesigning, we can use your gemstones to make something new, creating a new piece (or pieces!) of jewelry to fit your style.
We hope we've inspired you! Please contact Carreras to make an appointment and start restyling your jewelry box!
Call or text us at 804-282-7018 to discuss your individual pieces today.