The History of Carreras Jewelers
Over 50 years ago, William Carreras began his career by representing a jeweler and selling diamond engagement rings to his classmates while studying business at the University of Virginia. While still in school, the growth necessitated the opening of an office just off campus.
Upon graduation from UVA in 1965, Mr. Carreras spent the summer in Europe studying diamond cutting, design, and jewelry fashion. On November 10, 1967, he opened a small 90 sq. foot office in Richmond's financial district. His inventory consisted of three diamonds. Concentration was still engagement rings on college campuses with representatives at ten state and regional schools. Customers and their parents began asking for additional jewelry items such as pearls and earrings. Customers and inventory grew.
Mr. Carreras soon outgrew the one-room office and moved into a 480 sq. foot up-stairs salon. For the first time, the inventory required a small safe. Growth continued and in 1970 the move was made to the penthouse of Richmond's first high-rise apartment building. The same year, Rejena became his wife and business partner.
In 1971, the Carreras husband-wife team opened salons in Hilton Head, S.C. and in the Tides Inn resort hotel in Irvington, VA. As the customer base continued to grow, it was evident that the firm had to expand and go "public" with a ground-level store. In the fall of 1977, the Grand Salon in the Sovran Plaza opened with three employees. During this time period, most jewelry manufacturers began lowering the quality of products offered. This forced the Carreras' to begin on-site  manufacturing, controlling the quality of stones and workmanship.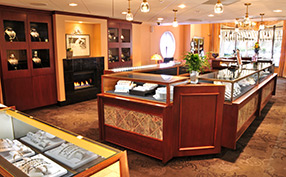 Five years after opening the Grand Salon, the Petit Salon was opened in Richmond's West End. The expansions and growth caused the close of the two out-of town operations. The addition of the engagement salon, adjacent to the Petit Salon was soon developed. At this time, this was the industry's only store catering entirely to the engagement market. These salons would eventually condense and close for the entire business to be concentrated at the Libbie Avenue Salon.
As Carreras moved into the 90′s the original philosophy of offering the highest quality gems and jewelry remained true.
Ever since, the loyal support of discerning, value-oriented customers has propelled Carreras Jewelers to be distinguished as Richmond's premier jeweler today as it thrives on Libbie Avenue.