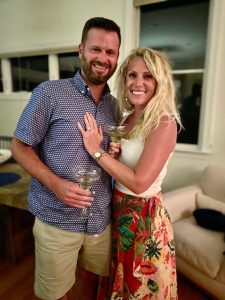 CUSTOM DIAMOND RING – CONOR AND CAROLINE
They say 'timing is everything.' Well, that sentiment couldn't ring more true for Caroline and Conor's courtship! Despite their mutual friend making numerous attempts to connect them and an unsuccessful time at bat by Conor (i.e. Caroline was already seeing someone), Conor and Caroline were just not meant to meet yet. Then it happened; Conor learned that Caroline was once again single and he didn't waste any time reaching out to her again. Caroline accepted Conor's invitation to dinner at Max's on Broad and the rest is Ashby-Steadman History, as they say!
Conor and Caroline dated for four years. Conor decided the perfect time to propose marriage to Caroline would be during the Steadman family's planned trip to Honduras, which also coincided with the couple's fourth anniversary. Unfortunately, "timing" struck again and Covid-19 changed their travel plans. The Steadman's and Conor instead headed to Isle of Palms, SC where they would also be celebrating Caroline's MBA program completion. Once Conor asked and received Caroline's father's blessing a few days before leaving for the trip, the proposal coordination began! This very special trip was made even more special because Caroline's parents successfully kept the secret from everyone.
Imagine the setting: a romantic alfresco dinner on Sullivan's Island at the aptly named restaurant, The Obstinate Daughter, to celebrate your fourth anniversary as a couple.
Cue the vicious storm that rolled in and, Plan B, because… "timing." Caroline and Conor learned that sipping cocktails in soaking rain makes for a very memorable evening. In all seriousness, the restaurant took the necessary time to ensure a safe, enjoyable, socially distanced, and delicious dinner indoors for the couple.
When Conor and Caroline returned to the family vacation house, the entire clan was there in the living room sharing stories of their day. As Caroline was sharing her story, Conor snuck away to get the ring.
A bit about that ring: Conor chose a custom made ring from Carreras because he wanted something timeless that no one else would have on their hand. Conor told Sally Ashby, his favorite Carreras saleswoman (and sister-in-law), what he was looking for, and she curated a design that both Caroline and Conor adore.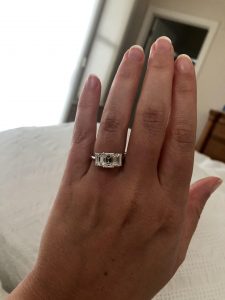 When Conor returned, Caroline was still in her raincoat regaling her story, when he whispered in her ear, "I love you, Caroline." Conor then got on bended knee and popped the question!
Everyone in the room reacted with joy and surprise, including Caroline! She said, "Are you serious? Are you serious? YES!"
They popped champagne and the celebration began!