Stack on the Savings – ONE DAY ONLY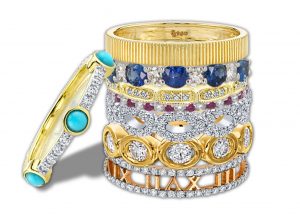 Carreras Jewelers has the privilege to help women celebrate their milestones and personal successes with a piece of jewelry every day. We call it Stacking on your Success. A stack of rings symbolizing children, a diamond pendant representing a promotion, a silver bracelet to celebrate beating breast cancer, a gold charm to celebrate a graduation.
Start with one piece of jewelry to celebrate one success, then begin to build one item on top of another for each new success. You will be reminded every day of all your amazing accomplishments.
Carreras Jewelers is giving you the chance to Stack on YOUR Success and Stack on the Savings! Join us for our ONE DAY ONLY Stacking Sale on June 25 from 10 a.m. to 5 p.m. Plus, a special brunch from 11am – 2pm!
How to stack on the savings: (discount applies to entire purchase. Loose diamonds excluded. Certain restrictions apply)
10% on one piece of jewelry
15% on two pieces of jewelry
20% on three or more pieces of jewelry
The Stacking Sale is part of our "Stack on Success" campaign. For the initiative, we had people nominate special women in the community and were overwhelmed with the response. In the end, we selected 12 women. They were featured in our marketing material and took part in a photo shoot with our exquisite pieces of stacked jewelry.
The event also features a special brunch from 11 a.m. to 2 p.m. Stop by and meet the successful women featured in our Stack for Success campaign. Plus, enjoy food, champagne, and mini manicures from Polish' by Nicole!