5 Engagement Ring Styles to Help You Pop the Question!
We love fall. The leaves are changing. The air is cool and crisp, and the days grow shorter as winter begins to settle over us. It's a time of transition.
Another reason we adore fall – ENGAGEMENT SEASON! Soon-to-be grooms and couples together flock to our store to start discussing engagement rings and diamonds. They each have different questions and ideas, but they all want the perfect ring for that will start this new journey in their life.
Selecting an engagement ring is a process that many have already started before they walk in our doors. There have been discussions with friends, hints have been dropped, and Pinterest boards have been made. It is our job to collect all that information and produce the perfect ring.
We start by asking a lot of questions. What are types of jewelry does she like? Is her style modern, trendy, vintage, classic, etc? Do they already have a particular style of ring in mind? Will the ring they are looking for work for her lifestyle?
Usually, we know the moment they have found the perfect ring. We can see it in their eyes. Sometimes, we even know it before they do! Weddings are such a sincere moment in a couple's life, and we love to be the starting point for the adventure.
We are often asked which engagement rings do we see couples choosing. And the answer for this changes depending on style, fashion, and trends. However, there are always the classics that we have in our cases that never go out of style.
We thought it would be fun to answer this question though as if someone just walked into the store today. So, without further ado and in no particular order…here are 5 engagement ring styles and designers that our clients love!
Estate Engagement Ring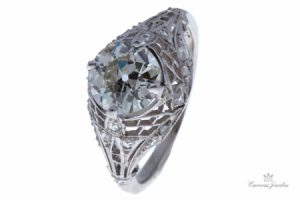 Carreras Jewelers has long been known for its Estate Jewelry including estate bridal. Estate simply means that it has been previously owned. It may be a contemporary style ring, or it may be a time period piece such as Edwardian or Art Deco.
Couples like to browse our estate engagement rings because it can mean a break in the price, but often times we hear people say… "I just love the filigree work of this ring", "I am looking for something different", or "I love the thought of the history of this ring".
Vintage and antique rings have looks that are easy to mark when they were popular. Edwardian engagement rings, such as this Edwardian Engagement Ring are often platinum and show off the beautiful filigree work and older cut diamonds.
Art deco engagement rings, such as this Platinum Diamond and Sapphire Engagement Ring showcase geometric designs that sometimes include other gemstones such as sapphires, rubies, and emeralds.
Peter Storm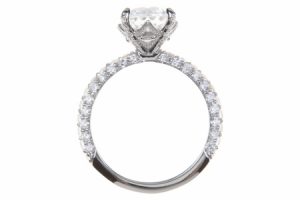 At Carreras Jewelers, we love to carry jewelry lines from designers, such as Peter Storm, that you will not find anywhere else in the area. Peter is our most popular bridal designer, and we often see brides-to-be gravitate immediately to his halo and three-stone engagement rings. His designs are stunning, and the quality of his work often shines through the case.
When you visit Carreras for engagement rings we will lead you to two cases full of engagement rings. The first case displays rings that are ready to go home that day. They are set with diamonds, and the only customization available is sizing.
However, in our second case we display engagement ring mountings that do not include the center diamond. These mountings are perfect for someone who wants to be a little more involved on the design of the ring and the selection of the center diamond. Some clients have heirloom diamonds that they want to use and some browse and purchase diamonds from the selection that we have in-store. While other couples opt to use a colored gemstone such as a sapphire instead of a diamond.
To provide you with the best selection of Peter Storm we have a few that are ready to go home with you that day such as this 14kt White Gold Diamond Halo Engagement Ring. However, since his customization option is highly popular we have most of his line in our mountings case such as this 18kt White Gold Pave Engagement Ring.
Noam Carver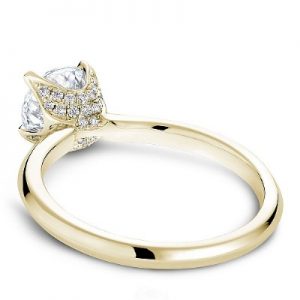 We are ecstatic to now be carrying Canadian Designer, Noam Carver. His rings are fully customizable, meaning they can be made to fit any size or shape stone and be made in white, yellow, and rose gold as well as platinum. There are rings for most bride's liking in his collection.
One of his bestsellers is this 14kt Yellow Gold Diamond-Accented Solitaire Engagement Ring that we have set with a 1.63ct diamond. Yellow gold solitaires have made a big comeback, and we love how he has taken a classic style of ring and updated it to add a little sparkle and interest with the pave set diamonds along the side of the head. This ring is also available in our mountings case without the center diamond for full customization.
His collection also includes more intricate designs such as his White Gold Cluster Diamond Engagement Ring. As shown here, this ring features a center of a 1.00ct round diamond surrounded by halo of diamonds surrounded by a second halo made up of round and baguette diamonds.
Gumuchian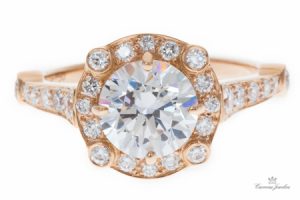 We see many brides who are awestruck by the jewelry from Gumuchian, a mother and daughter team out of New York who specialize in jewelry designed by women for women. They are meticulous with their attention to detail and their styles mirror the style of the modern woman.
We are especially fond of Gumuchian's rose gold pieces. There is something soft, luxurious, and romantic about them. One of our favorites is the 18kt Rose Gold Diamond "Carousel" Engagement Ring mounting. Once she slips this ring on she is sure to fall in love with it and say YES!
This ring also has a matching wedding band available, as well.
Carreras Custom Engagement Rings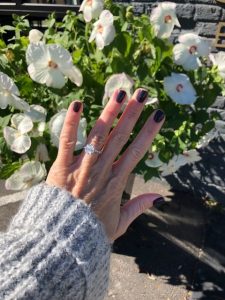 Custom engagement rings and wedding bands are a special part of our work at Carreras. We either start with a blank canvas or an exact idea of what the couple would like their rings to look like.
Some couples will bring in a Pinterest board full of ideas and different ring styles that they like and are looking to combine their ideas into a cohesive piece.
Other couples have actual drawings of what they want the ring to look like which gives the jeweler the exact idea of how the ring should look when placed upon her finger.
While others still browse our engagement ring mountings and look to put different shanks with different heads, choose the metal, and/or pick out the diamond that speaks to them.
We find that the groom-to-be often enjoys being a part of the ring design process and making it that much more meaningful to each of them when it is placed on her finger.
Each couple that visits Carreras has a different idea of what they are looking for in a ring that she will wear forever. Some want big and sparkly, some want it to be low-key. Some brides want to be surprised, and some want to be involved in every step and are sometimes proposed to in our showroom (we love it when that happens!). Some couples want two bands. Some grooms have no idea where to start where others pretty much know what she wants, and we just have to point him in the right direction.
In the end they all end up with a beautiful ring that is special to them and a ready to pop the question!