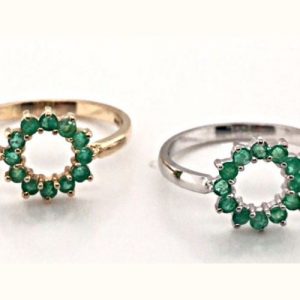 March 2021: Emerald Earring Jacket Redesign
For this next restyling feature, we're excited to share this story from Sally, one of our certified jewelers here at Carreras Jewelers.
"My client bought a pair of emerald earring jackets and never wore them. The stones are so beautiful, and she didn't want to part with them! Together, we decided to restyle the earrings into two rings for her two daughters!"
Sally truly helped bring her client's vision to life, transforming the former earring jackets into treasured, wearable rings for years to come. Now this client's daughters have fine jewelry of high sentimental value, too!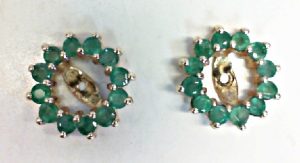 Voila! Two keepsake rings. The upgraded 14kt yellow and white gold ring mountings make these existing emeralds sing!
You may also want to combine two or more pieces into one lovely treasure. Perhaps you have an old family heirloom that is sentimentally important to you and your family that could use a modern twist? With jewelry redesign, you have the ability to use the stones, preserving the sentimental elements, and redesign a piece of jewelry of your dreams.
Call or text Carreras Jewelers today at 804-282-7018 and make an appointment to discuss redesign/restyling a piece in your collection—no redesign project is too small for us.
You can also follow along with us on Instagram and Facebook to see more of our featured contemporary and estate pieces.